America's Worst Intersections According to Forbes
I was just checking out this list of the worst traffic intersections in the United States, and I couldn't help but noticed that none of them are in Houston.
The factors that determine the order of the list are Weekly hours of congestion and the average speed when congested. The number 1 intersection, the Cross Bronx Expy WB/I 95 SB in New York / Long Island, boasts a whopping 94 weekly hours of congestion. Since there are only 168 hours in a week, that's 56.5% of the entire week, day and night. The worst ones in Houston top out in the mid 30s, so I guess we don't have it so bad after all. Here's a screen shot of the Houston map (click here for the interactive map):
Is this really the best way to judge the worst driving intersections, though? I think a statistic like this ought to include factors like the average number of angry people at the intersection at any given time, or the average number of aggressive driving incidents (interesting study by the AAA Foundation). The map below from AutoVantage is the result of their 2008 Road Rage survey. While Houston doesn't appear on either list, at least we aren't one of the least courteous: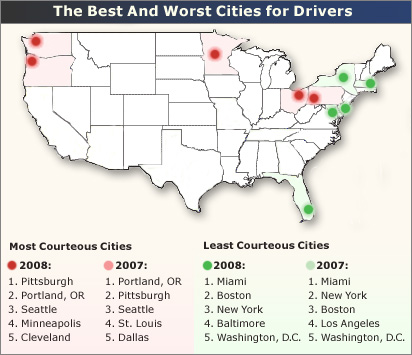 What do you think the most and least courteous cities are when it comes to driving traffic? I'm going to say anywhere in and around Fort Worth or Los Angeles (I've never been to Miami, and Fort Worth drivers are terrible). Let us know in the comments.
For more information check out the links below: